Ronald L. (Bodhiron) Johnson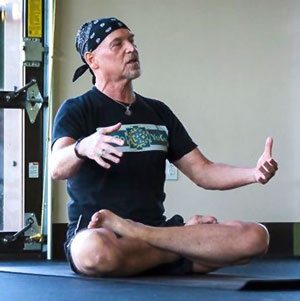 My name is Ronald L. Johnson, nickname Bodhiron. I first heard of Divine Beings called Bodhisattvas when I was a religious studies student at UC Santa Cruz. These most excellent sages vowed to make a practice of devoting themselves to the well being of others. Although it seemed too noble a calling to share with family or even friends, I secretly adopted this arcane code as my own…. I am a 2007 graduate of Corepower Yoga Teacher Training in Portland, Oregon and have studied with Tiffany Cruikshank for Advanced Teacher Training. I have also taken yoga classes with David Swenson and Richard Freeman at the Telluride Yoga Festival, and chant with Kia Miller at the Hanuman Festival in Boulder. More recently I studied chant with Mike Cohen of the Kirtan Leadership Institute.
Previous to Core Power I apprenticed in Iyengar-style yoga with veteran Portland Instructor Simon Menasche, but first learned Integral Yoga with Swami Satchidananda Ashram teachers while at UC Santa Cruz. I received a joint degree in Psychology and Religious Studies with honors.